Netgear Nighthawk AC1900 (R7000) Review
I bought a new Wi-Fi router about a year ago, and I've been so happy with it that I decided to write a review.
The Goods
Netgear has a truly impressive lineup of high-quality routers in their Nighthawk series.
When I purchased the Nighthawk R7000, it was the only Nighthawk available, but now there are three options.
Nighthawk AC1900 (R7000)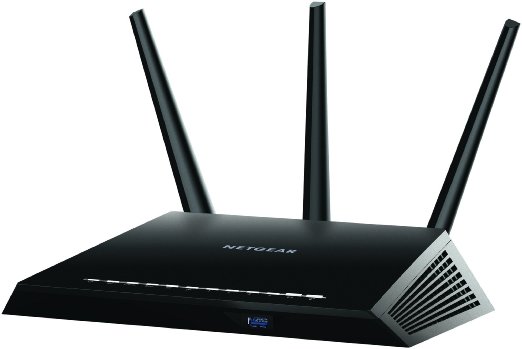 This is the router I purchased. At $176, it is now the cheapest one in the series, but don't let that fool you. It's a beast.
Nighthawk X4 AC2350 (R7500)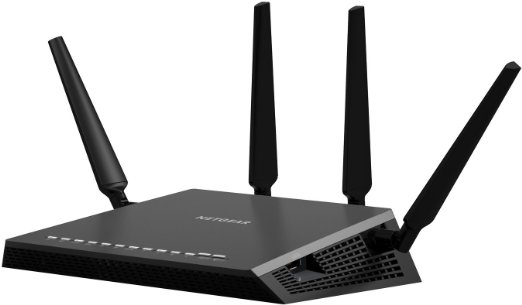 This model has an additional antena, a faster processor, and boasts improved range and faster bandwidth. It costs about $100 more than the R7000. This router uses a more advanced radio than the R7000 that apparently has higher throughput and reliability. That being said, I haven't experienced any problems with the throughput or reliability of the R7000.
Nighthawk X6 AC3200 (R8000)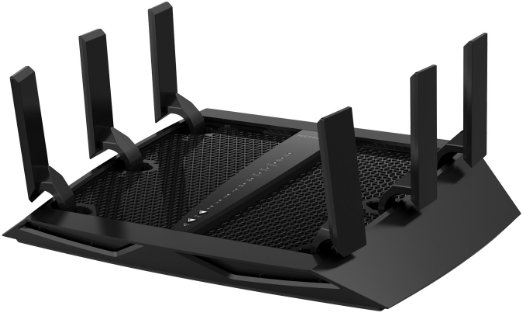 This model has 6 antenas, which again boosts range and bandwidth. It also supports a third Wi-Fi band, and assigns slower and faster devices to different bands, boosting performance for fast devices. This model is only about $5 more than the R7500 ($105 more than the R7000), so if I were to upgrade, this is the model I would choose, because of it's significantly improved bandwidth.
Price
Here's a side-by-side comparison of the different models.
| Model | Price |
| --- | --- |
| Nighthawk (R7000) | $176 |
| Nighthawk X4 (R7500) | $279 |
| Nighthawk X6 (R8000) | $283 |
When I first considered this router, the price was what gave me the most pause. In the past, the most I'd paid for a router was about $40, so this seemed like a significant price bump. In the end, the only reason I bought it was because a friend had bought one and was very happy with it.
After using it for a year, I don't think I'll ever buy a "cheap" router again. In the case of Wi-Fi routers, it seems that "you get what you pay for" holds true.
Reliability and Performance
My primary reason for upgrading my router was that my previous router, an older Linksys in the $30-40 range, didn't reliably reach the entire house. After enough complaints from one roommate who's bedroom was in the far corner of the house, I decided to upgrade.
After installing the R7000, I've stopped having router issues. The signal reaches to every corner of the house, and has never cut out.
I eventually even swapped out the Ethernet cables in my two desktop computers, replacing them with this Dual Band Wireless PCI Express adapter. Even after getting rid of the hard line, I get blazing fast speeds on both machines.
Extra Features
Mounting Slots
One of the things I took advantage of immediately was the slots on the back for mounting it on a wall. Moving the router to a more central location in my downstairs hallway provided even better coverage throughout the house.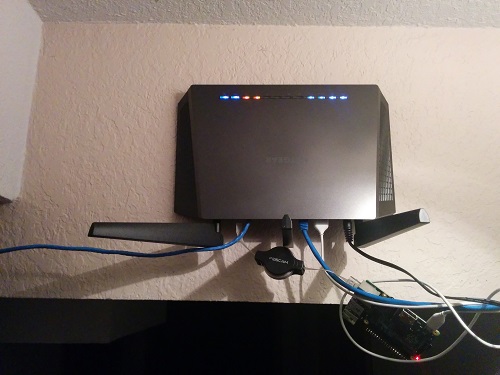 (yes, that's a Raspberry Pi unceremoniously dangling from the router. Don't judge me)
Pro tip: make sure there's a power outlet within easy reach of your desired location before you start screwing in drywall anchors :)
Web-based WPS Button
Most routers support WPS. This allows new clients to connect to a network by clicking a physical button on the router. This is convenient, but who wants to have to get up and walk over to the router.
Fortunately the Nighthawk web UI has a button you can push to do the same thing.


Easy Firmware Upgrade
Most of my past routers have had a really archaic update process. Usually you have to manually flash the firmware and go through a convoluted restart process.
The R7000, on the other hand, just requires one or two clicks to install the update and automatically restart.
And So Much More
I usually install DD-WRT on any router I buy, but the R7000 has all the features I typically use, so I'm just running the stock firmware. Here are a few of the things I use most frequently:
View attached devices
Port forwarding
Assign static LAN IPs
View traffic statistics
In Conclusion
If you're tired of buying cheap routers that crap out after a year or two, I highly recommend the Nighthawk R7000.
I am now accepting new clients for part-time consulting and software development projects.
Learn more